About Elektrilevi
Elektrilevi is Estonia's largest network operator. We aim to offer our customers and society a high-quality experience by effectively developing and managing large networks. Our efforts help to make the network service more reliable.
Our network covers 93% of Estonia
Elektrilevi supplies electricity to almost all households and companies in Estonia. Elektrilevi has more than 504,000 customers that use our network service. In order to ensure a constant supply of electricity to our customers we maintain and repair 60,000 kilometres of power lines and more than 24,000 substations. Our network area does not include Lääne county, Viimsi or Narva and its surrounding areas, where electricity is supplied by other network operators.
Read more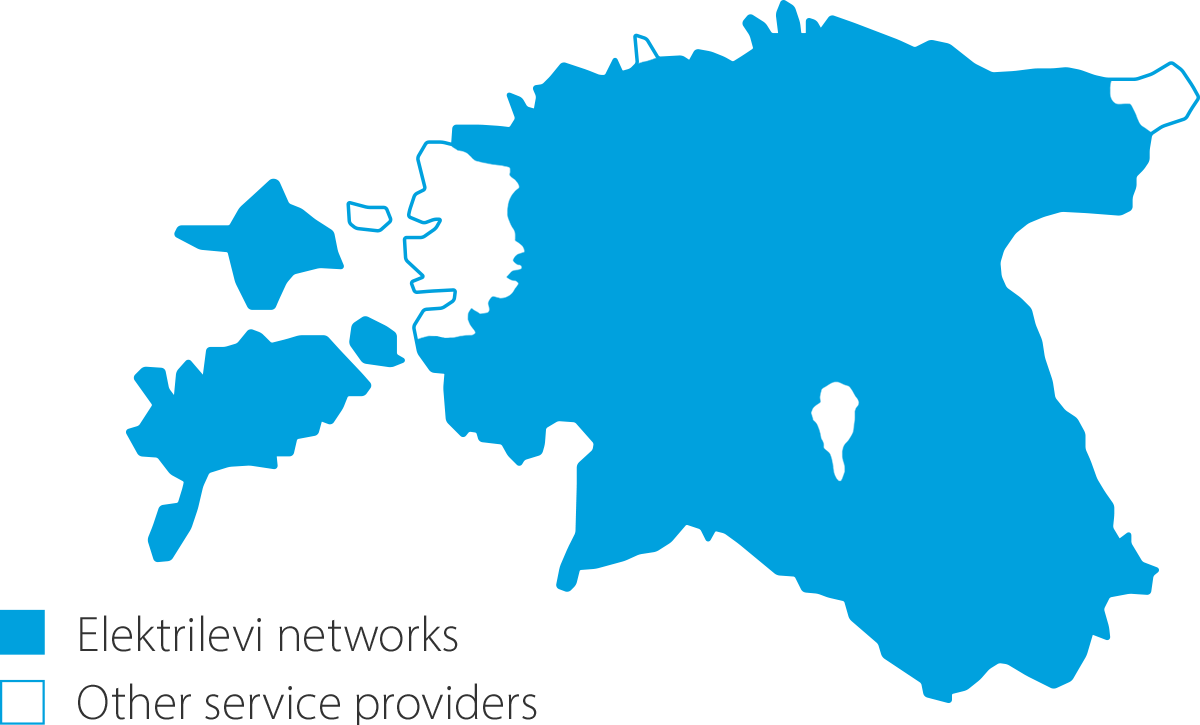 Elektrilevi's promises
We will bring the network to you
As the largest network operator, we maintain and develop networks that cover all Estonia.
We will continue future developments
We will apply our long-term experience and professional employees to create a smart network for society.
All customers matter
We are a caring partner and create convenient e-solutions to make complicated processes simpler.
Our principles of operation
Elektrilevi provides services of strategic importance for society. For this reason we pay special attention to the quality requirements for our service, the safety of our employees and people in general, and also our environmental impact. We follow the equal treatment principle when it comes to the customers, electricity sellers and other parties, and treat the data entrusted to us with care.
Read more
Investments
We plan the development of the network for several decades in advance and make continuous investments to ensure constant electricity supply. Our investment decisions rely on state-of-the-art big data analysis models that help us to ensure that every euro invested in the power grid has a maximum impact.
Investments in 2021
Read more
Annual reports
Read more about Elektrilevi's economic results and more important activity indicators. The deadline for submitting Elektrilevi's annual report is June 30th. Generally, we will publish the annual report of the previous year by April of the following year.
Annual report for year 2020
Archive
Analyses and studies
The electricity distribution network is a vital services infrastructure, and the investments in it are considerable and are for decades to come. The planning of the network is influenced by the rapid development of technology, changes in electricity production and consumption patterns, and economic and demographic trends. To make good decisions, it is increasingly important to involve research and development.
Read more
Management structure
Elektrilevi OÜ employs over 30 people across Estonia. We work with power engineering and electricity network experts.
Employee email addresses take the form:

firstname.surname@elektrilevi.ee
---
Management Board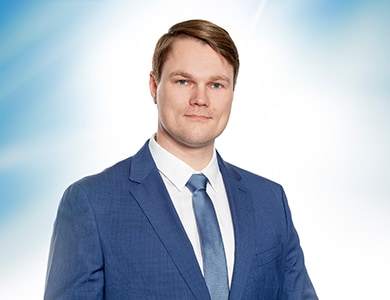 Mihkel Härm
Chairman of the Management Board
---
Board members and area managers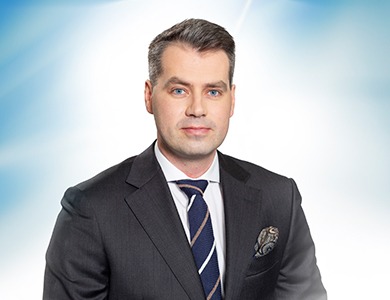 Priit Treial
Financial Management (Member of the Board)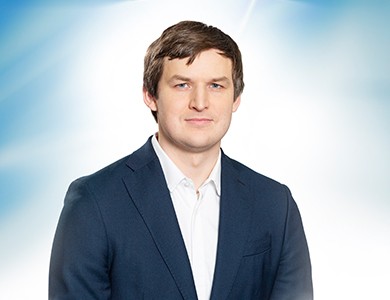 Rasmus Armas
Asset Management (Member of the Board)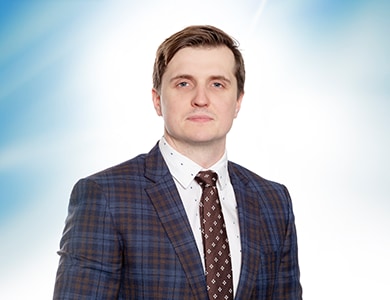 Rudolf Penu
Regulated Services and Legal Affairs
---
Communication and marketing
Ivar Jurtšenko
Communication and Marketing Manager
How is the network fee calculated?
The optimum way to transmit electricity is to have only one network operator in every area to avoid the costs of building overlapping networks. As the market for the network service is therefore not competitive, the costs of network operators and the price of their services are regulated. When the costs incurred by network operators change, they apply to the Competition Authority for approval of a new price.
Vision 2020-2030
What does the network fee consist of?
The price of the network service (i.e. the network fee) covers the expenses of maintaining and updating the electricity network, such as building a new network, equipment maintenance and repair, clearing of line corridors, maintenance of equipment used to measure consumption, building and maintenance of information systems essential to the management and functioning of the electricity network, etc.
Read more

How have network bills changed over time?
The price of the network service has been distinguished in electricity costs since 2005. A comparison with the service price increase of the CPI shows that in the last 10 years the network service price has become 11% cheaper. We work hard to provide the network service in the most efficient manner and to keep the costs and fees at a reasonable level.
Read more
Network fees in Estonia and Europe
Estonian network service prices are below the European average, both for residential and business customers. At the same time, we shouldn't forget that Estonia has low population density, which means that we are supporting a network with relatively big capacity but with a small number of consumers and a low power demand.
Read more
What does my electricity bill consist of?
The final price of electricity consumption for customers consists of three components:
electricity
network service
state fees and duties
---
Based on the average network fee for all Elektrilevi customers and the electricity price for the universal service, electricity, network fee and duties each make up about a third of the final price.
Read more
Elektrilevi
Investments in 2021
We have to consider the whole Estonia in our investment decisions. When preparing an investment plan we consider the number of customers connected to the power line and the substation, suppliers of essential services, the condition and malfunction risk of the power line, natural conditions, other plans for upgrading infrastructures, and many other factors.
Investments by County
Investments in Harjumaa 2021
Planned investments
9,8 million euros
Number of substations to be upgraded
20
Number of power lines to be upgraded
72 km
Bigger investment objects in Harjumaa
Construction of a new 110/20/10 kV regional substation in Riisipere
Reconstruction of a distribution substation in Tallinn, in the immediate vicinity of the Central Market
Reconstruction of Padise-Ristna medium voltage line
Reconstruction of Kõue-Kuimetsa medium voltage line
Reconstruction of Endla regional substation in Tallinn
Investments
Smart and effective investments are important both for Elektrilevi, our customers and Estonia in general. Due to the population concentration and size, a single Estonian consumer has to support more than twice the amount of the power grid compared to a Dutch or German consumer. We have to guarantee an acceptable level of supply security for all our customers in a situation where 60% of the power grid is located in scattered settlement areas and only 5% of the total electricity in the network is consumed from this part of the grid.
Whether we have managed to target our investments well is best shown by the improvement in our customers' power supply. Over the past five years, the number of breakdowns has decreased by well over one-third and the average duration of outages due to breakdowns per household has more than halved.
Our investments are divided between weather-proof underground and overhead lines and new substations. To reduce the dependence of the safety of network on weather, we replace old bare overhead lines with underground cables. On low-voltage lines we also use modern overhead cables that are much more weather-proof compared to traditional lines and can even endure fallen trees.
Our network covers 93% of Estonia
Due to Estonia's low population density a single consumer has to support a much larger portion of the network in comparison to many other European countries. This also affects the network-related costs.
Elektrilevi maintains and develops essential network services to create a more comfortable and simpler environment both for people and companies.
We aim to continuously improve our network service while maintaining a reasonable price range. To assure the quality of our service, we use effective and efficient solutions, continuously work on weatherproofing the network and digitize the network management.
Joint management of different network types is one of our major objectives that would allow us to offer high-quality service to our customers and society while keeping the costs and prices on a reasonable level.
When it comes to the management of smart network connections that combine different functions, then Estonia is a role model for the whole world. We believe that the joint management of networks will make life in Estonia even more comfortable and help our companies to excel even further.
Archive
Our principles of operation
Safety and quality
We adhere to the following quality principles in our work:
we assure constant supply of electricity by keeping up with the technological progress and by investing into the growth of our employees and partners. We also aim to create an operational environment that supports progress;
we provide consistent network services to meet our customers practical needs and all legal requirements;
we ensure that the electricity network continues to develop and function efficiently;
we apply the principle of equal treatment for all market participants;
we provide high quality services and share common customer service principles both with employees working for Elektrilevi and our partner companies.
Equal treatment principles
All market participants should be able to use the electrical network of a network supplier on equal terms. We have established the Equal Treatment Action Plan to ensure equal treatment of customers, electricity sellers and other parties. We update the plan regularly and the Competition Authority confirms whether it has been adhered to.
Processing of customer data
We collect as little customer data as possible, but we must collect the minimum required for us to do our work. For example, we collect your name, personal identity number, contact details, language, consumption point location, consumption data, etc. We need this data primarily so that we can meet the contractual obligations we have to the customer, provide customer services and meet any legal requirements.
Access to customer data is only granted to employees who need the data for their work, so data processing is limited solely to the information necessary for particular tasks.
Analyses and studies
Elektrilevi began to cooperate more systematically with research institutions in the first half of the 2000s, when it identified the most critical asset groups for value creation in the distribution network together with the Lappeenranta University in Finland. Elektrilevi also cooperates with Tallinn University of Technology and the University of Tartu. For example, Tallinn University of Technology conducted a series of studies on certain aspects of asset insurance, and with the help of the University of Tartu, a management standard for asset-related projects was developed.
Elektrilevi also cooperates with academic institutions by attracting trainees, and where possible, provides the information necessary for preparing energy-related dissertations. We also publish final reports on commissioned applied research and analyses.
Research and analyses ordered by Elektrilevi:
What does the network fee consist of?
The network fee also includes the costs of the service provided by the transmission system operator Elering and distribution network operators, such as Elektrilevi. The price also includes a reasonable uniform margin established by the Competition Authority for all network operators.
There are over 30 network operators in Estonia. The costs of each operator depend on the character of their network, the density of consumers in the area, and the investment needs of the network, which is why different network operators apply different fees.
How have network bills changed over time?
Network fees in Estonia and Europe
There is a trend towards using a fixed fee in Europe as the costs related to maintaining the network connection are not substantially linked to the consumed electricity amount. A larger fixed fee percentage allows consumers of different capacity to invest into covering the network costs on a more equal basis.
In Estonia, the fixed fee percentage is lower than the European average, which means that those who consume more electricity also invest more into covering the network costs. That is why we are slightly more expensive than the European average in comparison with major consumers, although for smaller consumers our network service is one of the cheapest in Europe.
What does my electricity bill consist of?
The renewable energy fee and electricity excise
The renewable energy fee is levied by the state to subsidise the generation of electricity from renewable sources or the combined generation of heat and electricity in Estonia. Elering, the transmission system operator, calculates the renewable energy fee for each year and publishes it. Distribution network operators, including Elektrilevi, have a duty to collect this fee from consumers and transfer it to the transmission system operator.
The amount of the renewable energy fee depends on the estimated amounts of electricity to be produced during the next calendar year from renewable sources, and the network service sales forecast. If the expected amounts of electricity to be produced or sold change, the renewable energy fee also changes. Elering publishes the fee rate for the next calendar year by 1 December.
The electricity excise is a tax established by the state, which is payable on the electricity used. The rate of the tax from 2010 until the end of April 2020, according to the Alcohol, Tobacco, Fuel and Electricity Excise Duty Act is 0.00447 Euros per kilowatt hour. The excise rate from the 1st of May 2020 is 0.001 Euros per kilowatt hour. The electricity excise is collected by network companies based on the consumed kilowatt hours and forwarded to the state.
All customers matter
We service 15 000+ customers in representations
We resolve 92% of appeals during the first contact
75% evaluates our service as good or very good
We sevice 125 000+ customers via telephone
49% operatons are done in self-service
We service
36 000+ appeals via e-mail
We answer 82% appeals within 24 hours
The average call length with one customer is 4 min
We answer 95% appeals within 48 hours
Information on Elektrilevi results for 2019