About Elektrilevi
Elektrilevi is Estonia's largest network operator. We aim to lead the way as a provider of smart, convenient and competitive energy and structural solutions both in Estonia and all across the world.
Come and work for us!
With us you can create value for every Estonian.
This is an invitation into the world of large structures.
View vacancies
Why work for Elektrilevi?
Meaningful job
Elektrilevi is the largest network operator in Estonia, bringing electricity to almost every home and business. We aim to offer our customers and society a high-quality experience by effectively developing and managing large networks. Our efforts help to make the network service more reliable.
Diverse opportunities
We support our employees in their personal development and realization of ambitions. Developmental leadership is an important part of our company's management culture. Our employees can plan their development and career path themselves. We support internal relocations and provide an opportunity to partake in company-wide projects. Here you will work with inspiring professionals and are encouraged to come up with innovative solutions.
We care about our employees
We invest into well-being at work - health, safety, work environment. We offer different flexible solutions to assist you with your work. You will also be able to choose the location and time respective to your task. We value openness and a supportive environment. Our strengths pointed out in the recent staff satisfaction survey were the thoughtfulness and good listening skills of our managers.
We have received recognition
The survey conducted by Instar EBC ranks us as the 6th most preferred employer in Estonia among engineering students in 2023.
The survey conducted by Kantar Emor ranks us as the 9th most preferred employer in Estonia in 2022.
Respondents describe us as a reliable and developing company that offers interesting work opportunities and competitive conditions.
Elektrilevi has been awarded the Kaugtöö Tegija (Working Remotely) label by Targa Töö Ühing (Smart Work Association).
It is an award for companies that support and develop flexible working conditions both in terms of time and position.
We have the Health Promoting Employer label of the National Institute for Health Development.
The employers with the label take health promotion seriously and work systematically on it. In our work environment, new opportunities are constantly being found to increase well-being at work by creating opportunities that promote health.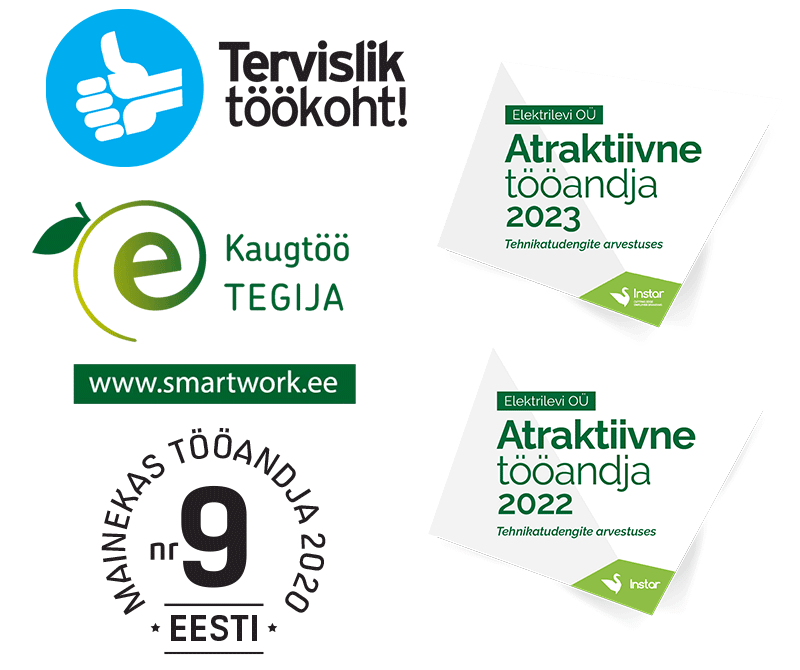 ---
Intern with us!
This is an invitation into the world of large structures.
View internship positions
Why intern at Elektrilevi?
We will invite you into the exciting world of energy
We offer an interesting and versatile work experience
We will include you in different projects
The internship is paid
Our values
Beneficial to the customer
We can only succeed if we create value for the customer.
Growing value
We focus first and foremost on activities that create greater value.
Difficult made simple
We turn complicated into simple and understandable.
Depends on me
My energy, my will and my sense of responsibility ensure the achievement of common goals.
Safety above all
Our operation has always been associated with risks to the environment and personal health, so we always uphold occupational safety, health and the environment.
About Elektrilevi
95%
we cover 95% of Estonia
Elektrilevi