Elektrilevi has launched an application MARU to report power outages and emergency situations
Elektrilevi, which stands for the electricity supply of Estonian residents, has launched a new application called MARU. It is medium that helps users easily reach the network company with urgent information transmission, especially during storms. The application is available on Elektrilevi's website elektrilevi.ee/maru.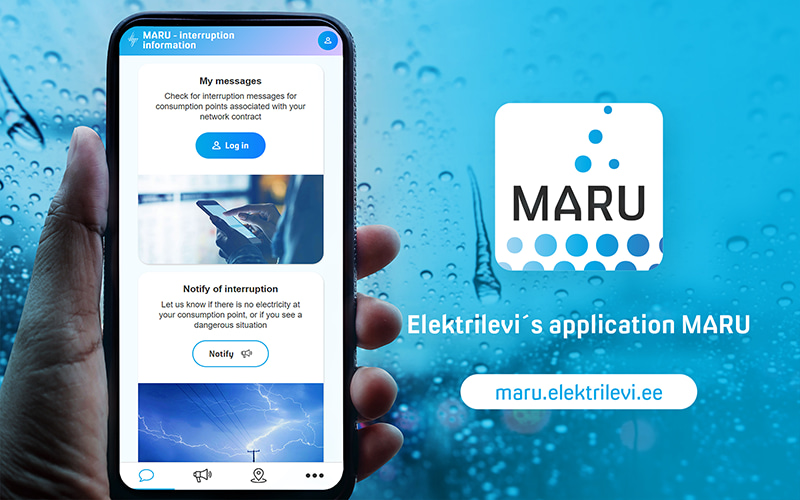 The new application can be used by anyone to send notifications regarding failures or dangerous situations, regardless of whether they are Elektrilevi's customers or not. Those, who log in to the application, gain even more - they can see failure information related to specific point(s) of consumption. When activating "failure message notifications" in the application, the messages sent by Elektrilevi will appear as notifications on the screen of your computer, mobile phone, or other smart device, and thus, no important pieces of information will be lost. Using the application is private and secure.
"I believe and hope that people will embrace the application and start actively using it, based on the need," says Priit Treial, Management Board Member of Elektrilevi. "It is a fast and convenient information channel that protects you and your loved ones (fellow citizens) during storms. This is the first version of the application and further functionality will be added in the near future. For example, soon it will be possible to send a photo of a failure or dangerous location via the application and a personal information field regarding planned interruptions will be created for the customers", promises Treial.
Stormy weather, which is a fairly common phenomenon in our latitudes all year round, almost always leads to domestic concerns, including worries about electricity supply. With the launch of MARU application, the waiting queues for the emergency phoneline 1343 should be shortened during storms, as people start to prefer a more convenient form of information exchange. The emergency phoneline will continue to be used in the future and MARU will be an additional information channel. In this way, the information exchange between customers and the network company should be accelerated, which provides the control centre with an even better overview of the general condition of the network during critical storm days. Decisions to rectify failures will be made based on that information. The more accurate the information, the higher the probability of the best solutions. In every sense, both in terms of troubleshooting efficiency and electrical safety, that no broken electricity line would be under current for an unreasonable length of time and therefore be life-threatening.
"We wish that reporting electrical failures and emergencies would be comfortable and possible for everyone. If users have feedback about improving MARU application, please be sure to report them either through Elektrilevi's website or via the application itself," encourages Priit Treial to think along. The comments received will be reviewed and, if appropriate, implemented.
In the future, the application can be downloaded from App Store and Google Play. At the moment, the application is available from elektrilevi.ee/maru.