Elektrilevi supports accelerating the connection of solar parks with the help of working Saturdays
The number of new micro producers connected is still high, though the record this year will remain in September. Compared to last year, there are still almost five times as many applications. To send connection offers to our customers as soon as possible, Elektrilevi is constantly recruiting more specialists. But as we know, there are not enough electrical power network engineers available on the labour market, which is why Elektrilevi is trying to do more with the help of the people that it has.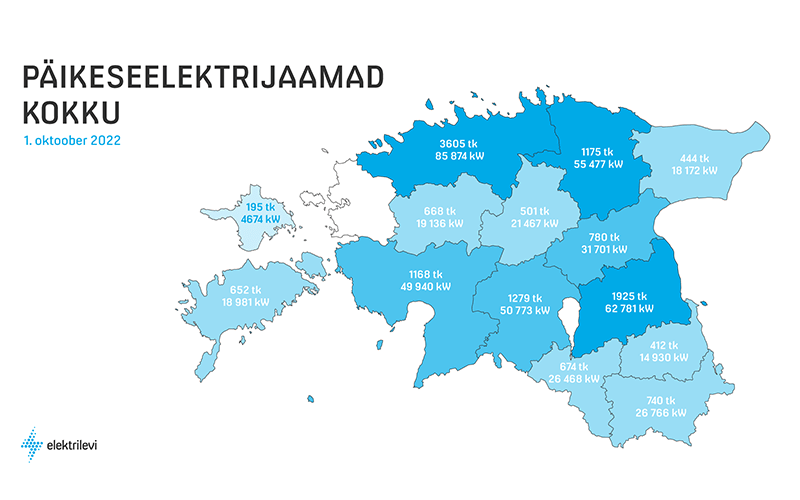 Map: Number of solar parks by county as of 1.10.2022. Elektrilevi.
Last Saturday, there was a community working day, in which 26 engineers took part. During the working Saturday, 689 applications from micro producers were reviewed, 476 of which can be added to the network with minor work, meaning without doing any construction work in the network. For connecting 129 micro producers, it is necessary to strengthen the low-voltage network, and for connecting 84 micro producers, it is necessary to strengthen the medium-voltage network. Working Saturdays like this are planned to be held again in the future.
From 24 October, the transition from a consumer to a micro producer with minor work will cost €542.40. The purpose of the fixed price is to speed up the sending of offers for minor work. Whether it is possible to satisfy the customer's application with minor work will be determined during the processing of the application.
The following types of work are considered minor work:
replacement of the fuse in an existing switchboard (with or without modification works on the switchboard);
installation of a switchboard on an overhead line pole;
replacing a switchboard with an existing plinth (for example, replacing a single with a double one);
installation of an additional switchboard next to an existing switchboard;
replacement of a meter and installation of warning signs;
on a small scale, replacement of overhead lines.
"The working Saturday helped us take a big step forward and we sent offers to a number of customers who had been waiting for a long time. We hope that we have now gotten through the bottleneck and can satisfy all applications more quickly in the future. Certainly, the newly introduced fixed price for the minor works of connecting micro producers and the fact that it is now possible to monitor the progress of your micro-production work in real time in our self-service makes the whole process more efficient. Any feedback from customers is very welcome, because our goal is still to make the green transition as convenient and fast as possible," commented Mihkel Härm, Chairman of the Management Board of Elektrilevi.
NOTE: It is now possible to monitor the workflow of connecting your micro production in Elektrilevi's self-service!
In the self-service, you can: see at what stage the connection application is in, sign the connection contract for your micro production, view your documents related to the connection, examine invoices and make payments. Check out Elektrilevi's self-service »